About Music Ministry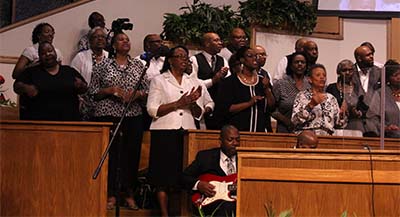 The Mt. Zion Music Ministry leads the Worship Experience and creates the worship atmosphere for 7:30am and 10:45am Sunday morning Worship services as well as any service held at Mt. Zion Baptist Church. 
The Mt. Zion Music Ministry hosts seasonal concerts, workshops and musicals throughout the year.  The music ministry is known to feature many of their individual choirs, as well as the Mt. Zion Mass Choir at special anniversary services and special outreach events that include Praise In the Park and Worship at the Cross. 
The Mt. Zion Music Ministry also travels with the Senior Pastor, Ministry Pastors and associate ministers to other churches or events in which the Mt. Zion Pastors or Ministers have been invited to be the speaker for that churches special services.
The Mt. Zion Music Ministry is made up of several choirs which have been designed to engage all age groups and provide an area for every Mt. Zion member to use their gifts and talents of song and music.
Youth Choir:  Mt Zion youth members ages 5 to 13
Zion Melody Choir:  Mt. Zion youth members ages 13 to 18
Women's Choir:  Mt. Zion Women Members of all ages
Men's Choir:  Mt. Zion Men members of all ages
Vessels of Praise:  Mt. Zion members ages 18 to 40
Voices of Zion:  Mt. Zion members of all adult ages
Mass Choir:  all choirs, all ages combined