About Genuine Praise Dancers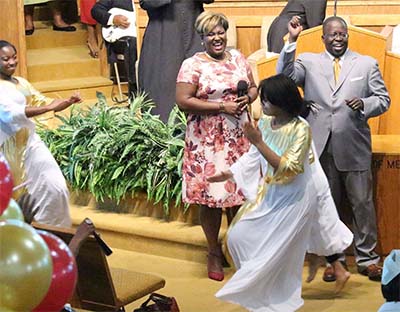 The Mt. Zion Genuine Praise Dancers is a ministry founded on the gift of dance. The Mt. Zion Genuine Praise Dancers are biblically based, with their emphasis coming from Psalm 149:3 : "Let them praise His name with the dance; Let them sing praises to Him with the timbrel and harp". We believe that the ministry of dance is a God given gift that must be given back to Him. We believe that our dance is anointed and truly a ministry and approach it knowing that God is using us and it cannot be taken for granted. We realize that it is important let the Holy Spirit flow freely and that the emphasis is on the ministry and the message rather than technique. Some of the members of the Mt. Zion Praise have been technically trained; however, this is not a requirement. Members just need to be willing to learn.
The Genuine Praise Dancers consists of about 30 girls 7 years old and older. Practices for the Genuine Praise Dancers are generally held on Saturdays from 2:30 p.m.- 4:30 p.m. Generally, the ministry meets the three Saturdays leading up to the date in which they will minister.
Advisors: Sisters Essence Clark, Jacqueline Hosey, Kendra Kelly
Ministry Meeting Day and Time:
Saturday (as needed) 2:30pm-4:30pm