Mt. Zion Baptist Church is not only a congregation; it is a cooperation of adherents meeting up to announce the superbness of the Lord, and to observe Jesus as King. Our prayer to God is that you will be honored and reinforced by the love of Jesus Christ, and that you will carry on with an existence of community, delight and freedom. We think about the Word, hone what we learn, and in the process become a community of believers. We would like to welcome you to join us soon at one of our amazing Sunday worship services.
This Week's Message
Pastor David G. Latimore Sunday, February 11, 2018 How to Live by Faith: Habakkuk 2: 1-4 The concept of faith still remains a mystery. There are many different views of what faith is. If we struggle with defining faith we will struggle living by faith. If we are saved than a natural consequence is that we MUST live by faith. A life of faith is to be involved in conversation with God.  There are no answers found outside of a conversation with God. When we turn to God and we lift our voice we are already on our way to getting the solutions God has for us.  We can talk to God anytime. But we must accept His answers. God often speaks to our hearts and we must get up run with His instruction and let it empower us. If we're going to live by faith we must be prepared to get up and run with the vision He's given us. God's word hasn't lost it's power. It might seem late but God's never late. God will always meet our needs. Trust and believe that God can do exceedingly and abundantly.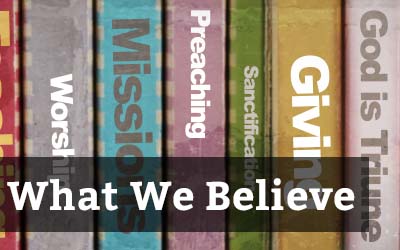 What We Believe

We believe the Bible is God's Word given by divine inspiration, the record of God's revelation of Himself to humanity.