Mt. Zion Baptist Church is not only a congregation; it is a cooperation of adherents meeting up to announce the superbness of the Lord, and to observe Jesus as King. Our prayer to God is that you will be honored and reinforced by the love of Jesus Christ, and that you will carry on with an existence of community, delight and freedom. We think about the Word, hone what we learn, and in the process become a community of believers. We would like to welcome you to join us soon at one of our amazing Sunday worship services.
This Week's Message
Sunday, February 18, 2018 Rev. Dr. David G. Latimore "It's Our Time" John 4: 23-30 Now is our time to step up and act. Jesus only recognizes that we are His children.  We should be thankful that we serve a God that doesn't care about our background, our circumstances, or how the world see us. We are grateful that God looks beyond our faults.  Even soaked in sin God still cares about us. Jesus wants to have encounters with us.  When you have that encounter with God it will make us forget what we had on our mind. Only thing we remember is that we MUST go and tell the world of His goodness. We must lay aside all weights and obstacles that prevent us from going to tell our story.  We shouldn't hide what Jesus has done for us. Don't let what people say about you stop you from telling what God's done for you. Tell how God rescued you and changed your direction and submerged you in peace. We must rise up and no longer be discouraged. We must stand and live the life modeling Christ's love. We serve a God who gives us life and life abundantly. It's time to proclaim the good news and extend the invitation.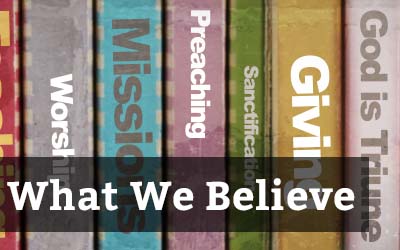 What We Believe

We believe the Bible is God's Word given by divine inspiration, the record of God's revelation of Himself to humanity.