Biography for Rev. Dr. David G. Latimore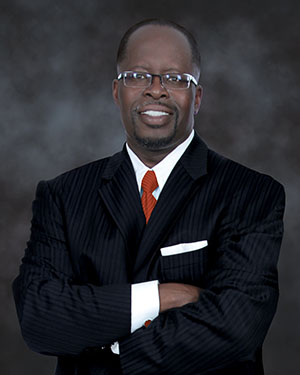 Rev. Dr. David G. Latimore has enjoyed the distinct privilege of serving as the Pastor of the historic Mt. Zion Baptist Church in Joliet, Illinois since May 2009. Following in the illustrious footsteps of Rev. Isaac Singleton, Sr., Pastor Latimore has built upon the great legacy of this ministry in partnership with a vibrant and growing congregation of thirteen hundred members.
Rev. Dr. Latimore comes to Mt. Zion Baptist Church as a seasoned Pastor, successful executive, and accomplished scholar. He has previously served the Mt. Carmel Baptist Church in Gainesville, Florida and the Southern Union Baptist Church in St. Louis as Pastor. He has also served the First Calvary Baptist Church as Senior Associate Minister and was licensed into ministry by Bishop Paul S. Morton at Greater St. Stephen Full Gospel Baptist Church.
Rev. Dr. Latimore graduated from Harvard University with a BA in Economics in 1990 and received his Master's of Divinity degree from Duke University in 2008. He received his Doctorate of Ministry degree in Homiletics from McCormick Theological Seminary in May 2015. His doctoral thesis was entitled, Liberating Lazarus: The Homiletical Mediation of Liberation for Congregant and Community and he was awarded the John Randall Hunt Prize for Outstanding D.Min. Thesis and Academic Record. Additionally, Rev. Dr. Latimore is a Ph.D. Candidate in Theology at the University of Chicago Divinity School and was recently awarded an FTE Doctoral Fellowship. His dissertation focuses on the effects of neoliberalism's ideology on the theology of the Christian church.
Prior to seminary, Pastor Latimore enjoyed a successful career in investment management and economic development. Most recently he served as President and CEO for the Initiative for A Competitive Inner City (ICIC), an economic research firm focused on economic development in America's inner cities. He has served in several executive management positions in investment management firms across the nation. Pastor Latimore faithfully serves his community as a founding member of the African American Clergy Coalition of Joliet, former Chaplain of the River Valley Juvenile Detention Center, and Chair of the Joliet Black Chamber of Commerce. He is also currently an Adjunct Instructor at Moody Bible Institute in Chicago.
Pastor Latimore is blessed to be the husband of Min. Tammie Brown Latimore and father of Grace (Georgetown-Graduate Student); Sydney (Dartmouth-Junior), David, II (Northwestern University-Sophomore), Lauren (high school-freshman), Nina (middle school student).